Frequently Asked Questions
Below you will find frequently asked questions. Is your question not listed? Please contact us at info@debontekoe.nl or 010-4732751.
How is the chocolate delivered?

We deliver the products that can be shipped by post. On the product page you can find info whether it will fit through the letterbox or will be delivered as a package. We use PostNL for this. If you order before 3:00 PM on a working day, your product will be delivered the next day. (Within the Netherlands)
Is your handmade chocolate sustainable?

Yes! All our chocolate is made from organically certified cocoa beans. Our mission is to make the tastiest chocolate in the Netherlands, with a positive effect on the environment and society. We want to be an example for other traditional family businesses. Would you like to know more about this? Go to our mission page.
How long does your handmade chocolate last?

Our solid chocolate has a shelf life of at least three months. Fresh fillings are used in the chocolates and bouchées, which have a shelf life of up to four weeks.
Do you have lactose-free/vegan chocolate?

We have lactose-free/vegan products. Our solid dark chocolate is always lactose-free. In the webshop you can filter by lactose-free/vegan.
Is your handmade chocolate gluten-free?

All our chocolates and bars (with the exception of the sugar-free chocolate bar) are gluten-free. Our granola and spiced nuts are not gluten-free.
Is your handmade chocolate gelatin free?

Our chocolate products do not contain gelatin. So these are halal.
What is the best way to store handmade chocolate?

It is best to store chocolate outside the refrigerator, otherwise condensation will form on the chocolate. One of the properties of chocolate is that it quickly absorbs odors and flavors, so it is best to store your chocolate at room temperature, not in direct sunlight and not in the immediate vicinity of soap products, for example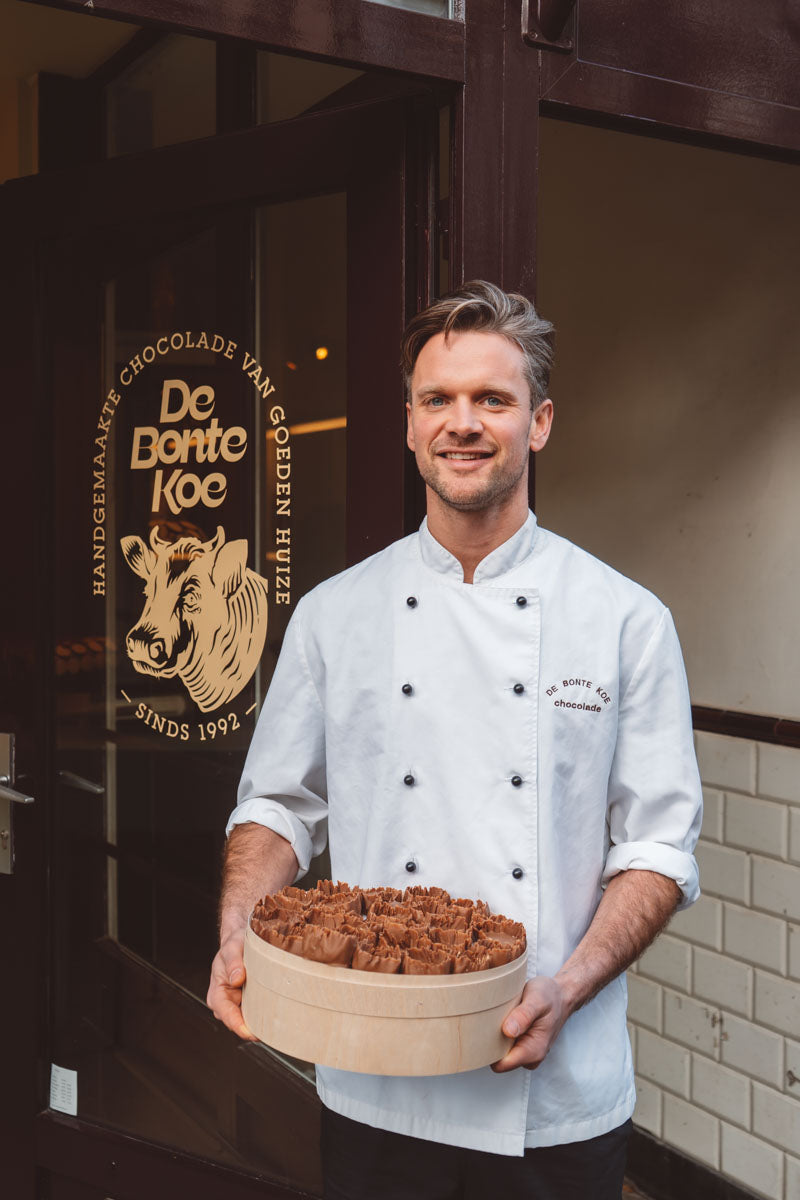 Can't find what you're looking for?
For any other questions or comments, please contact us using the information below.
De Bonte Koe BV
Lange Haven 54
3111 CH Schiedam
010-4732751
info@debontekoe.nl


Please contact us